Family Entertainment Centers (FECs) feature multiple venues with something for virtually everyone.
Often, they're comprised of dining, bowling and games, and sometimes include live performance venues, bar service and other amenities. A group can park the car once, have an out-of-home entertainment experience, and keep everyone happy.
Key Insights
FECs combine the elements of various business types and the result is a popular and diverse property type
Desire for congregant, out-of-home entertainment drives success and repeat business
Families and corporate outings comprise much of the business
Meeting Consumer Needs
According to CNBC, "…consumers have a wide and deep thirst for fun and rejuvenating leisure experiences…now also it's dinner and shopping, dinner and ice-skating, dinner and bowling, dinner and miniature golf, or dinner and sports events on the tavern big screen with friends."
FECs exist to fill this customer need, with a variety of engaging and interactive entertainment options in one place. The concept fulfills a strong consumer desire for active, out-of-home leisure experiences. Based around lifelong activities with long histories of measurable success—movie theatres, bowling, and dining out.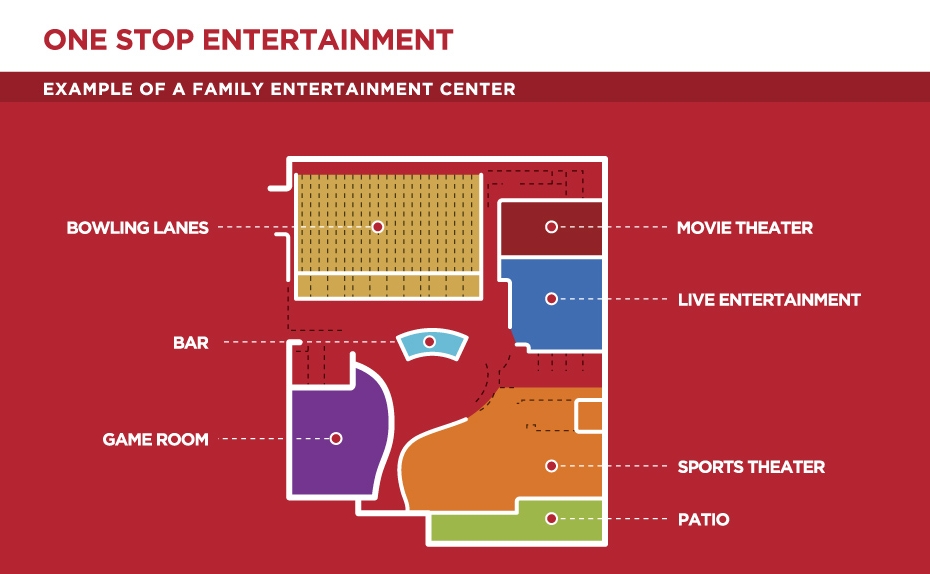 Capitalize on Segments
Successful FECs are such because they deliver the best version of these activities and make them all-inclusive within a single property. Gourmet cuisine, upscale bowling lanes, and luxury theatres each offer a unique draw. Combined, they keep customers on the property longer and increase the average spend per visit.
Value of Gourmet
In much the same way that high amenity movie theatres have improved dining options, FECs offer a quality of food that skews toward affordable yet upscale. Gourmet dining in a fun setting drives visits. With an increasingly sophisticated dining public, that offering is essential.
Frazier Capital says there's a trend in demand from discerning consumers who want more variety and expect higher quality food. In this sense, FECs enjoy a competitive advantage versus traditional restaurants as well as single-focus entertainment assets (bowling alleys, arcades, etc.) FECs have freedom to try new things and expand the experience to avoid growing stale.
Families First
As the name indicates, Family Entertainment Centers appeal to parents and their children. Most of the activities attract children between the ages of 8-16, so executing a memorable experience for entire families increases the likelihood of repeat visits. Leisure analyst Gretchen Grabowski says there is a developmental value for this audience as well.
"The fact that kids enjoy family bonding is not just a nice thing, but also important to their development," Grabowski wrote on Mintel.com. "Marketers should explore more ways to focus their promotions on family activities that are recreational, and foster the educational and social development of young children."
According to recent reports, parents of the millennial generation are more willing to spend on family entertainment (36% spending more on entertainment than last year) than any other group. The pay-to-play setup of FECs is familiar to this demographic, which grew up on arcades and downscale FEC-like settings.
Down to Business
A significant piece of the FEC traffic comes from the corporate world. Following the recession, today's corporate culture puts a growing value on team-building, as allowing coworkers to see one another in a different environment provides value to companies that hope to see their employees build relationships.
At an FEC, a company can reserve bowling lanes, hit the arcade, order food and drinks, and more. The properties have also become popular for holiday parties. Event planning is crucial for the success of FECs. In some cases, the corporate groups are the primary driver of a property's success.
Providing Value
The importance of dining options cannot be overstated. In 2013, the average person spent $108 per month eating out. In the fight for consumers' dollars spent, the ability to differentiate and to provide value are vital. FECs offer more of an experience than traditional restaurants alone. Further, FECs offer this variety of offerings at a competitive price point.
Growth for the Future
Today's consumers demand more for their dollar than ever before and will continue to do so, according to the International Association of Amusement Parks and Attractions (IAAPA) trend forecast. This bodes well for FECs, which are poised to deliver a great experience, visit after visit.
Sources
Guess What's Replacing Stores in Your Local Mall?. CNBC.com. Web. 2012. 15. Nov. 2013.
Luxury is Back in Food and Redefining Trends in the Hospitality Industry. Skift.com. Web. 2013. 22. Nov. 2013.
Corporate Holiday Party Report: Top Trends for 2013. BizBash.com. Web. 2013. 22. Nov. 2013.
Family Entertainment Center Benchmark Study. International Association of Amusement Parks and Attractions. Web. 2012. 29. Nov. 2013.
Bowling Trends: The Bad & Good News. White Hutchinson.com. Web. 2012. 14. Dec. 2013.
Millennial Parents, Especially Dads, Willing to Spend More Dough on Family Entertainment. Mintel.com. Web. 2013. 22. Jan. 2014.
Overview of the Family Entertainment Center. Frazier Capital. 2009. 21. Dec. 2013.