Today's theatre operators understand that people go to the movies for more than just the content of a film. Going to the movies has become an experience, and that experience has come to include an ever-growing variety of food and beverage options. It's therefore surprising that concessions, while now an established and vital component of the health of the industry and the guest experience, were once an afterthought at best.
In this timeline, we take a look at the evolution of concessions at the movies, from the industry's initial rejection of concessions altogether to today's revenue-generating mainstay of the moviegoing experience.

"Moving pictures" grew in popularity and availability in the early 1900s and theatres began to pop up around the country to capitalize on this growing industry. Nickelodeons were the first generation of theatre–a small auditorium used to host both films and live vaudeville shows. The "nickelodeon" moniker comes from a combination of the "nickel" attendance cost and the "Odeon," a smaller, acoustically-designed theatre for musical and literary performances in ancient Greece.
Studios developed and the short films became feature films. This fueled a shift from small nickelodeons into movie palaces during the 1910s. Management at both nickelodeons and movie palaces avoided food and drink because of the mess created. Vendors would attempt to sell popcorn and peanuts in the aisles, similar to what we experience at sporting events today. There were also many candy shops located in close proximity to the theatres so the food and drink still easily found its way into the theaters.
Theatre operators eventually realized the demand for food and drink as part of the customer experience. As a way to monetize this demand during the Great Depression, many theatres would lease space in their lobby to vendors. Eventually, the concession stand became integrated into the design of newly built theatres in the 1930s.
The growth in popularity of candy stalled a bit during the sugar rationing of World War II, but this opened the door for a growth in the popularity of popcorn, now considered a staple of the movie industry. Today, popcorn is such an essential part of the moviegoing experience that it has come to symbolize the movie industry itself.
When concessions were recognized as not only integral to the customer experience but also the most profitable area of operations, theatre operators focused on promoting concession sales. From 1948 to 1956, concession sales were forty times higher, even with theatre attendance declining during this period.
The intermission was created in part to provide the audience a chance to go to the concession stand to refill popcorn and drinks. In addition, ads during intermissions were geared at reminding viewers of the snacks available.
Today, we see a wide variety of ways in which food and drink are offered at the movie theatre. Some operators have implemented self-serve environments similar to browsing the aisles of a convenience store, while others offer in-theatre dining service in which your food is brought to your seat, ensuring you don't miss any of your movie.
In perhaps one of the most significant shifts in theatre food and beverage is the introduction of alcoholic beverages, with many theatres now serving alcohol both at traditional concession stands and at bar lounges in their lobbies. Considering that many theatre patrons dine out immediately before or after attending a film, theatre operators are giving guests an incentive to choose their theatre as a one-stop location for these social activities.
The results have been impressive, with leading operators reporting record-setting revenue growth in concessions. AMC reported a record $4.62 in concessions revenue per patron for 2015, and Regal reported record concession per cap in each of 2015's quarters, with the highest quarterly concession growth rate in their history from Q3 to Q4 2015.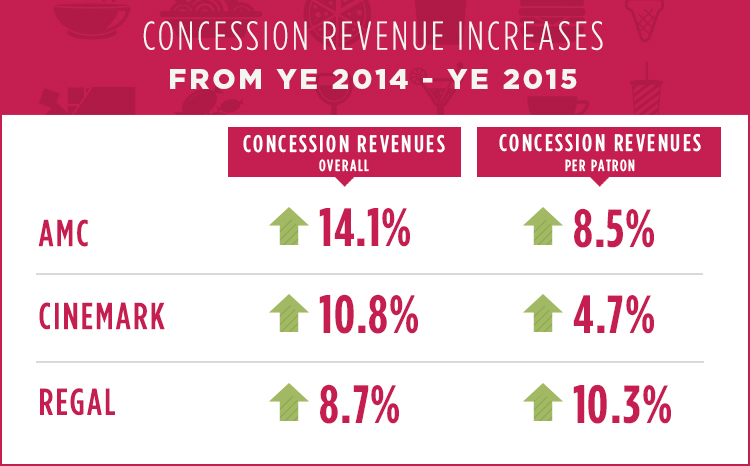 The shift toward enhancing the customer experience through food and beverage options has been established, and will continue to evolve as more theatres interpret the lucrative progression in distinctive ways that suit the demands of the modern audience.
In our next Insight Center article on this topic, we'll take a look at the variety of concession designs and expanded food and beverage offerings that are driving this industry transformation, including inspired menus, craft cocktails, and streamlined wait service.