Disney's Star Wars: The Force Awakens may be largely credited with driving the 2015 box office to an all-time high, but as Time magazine recently stated, it takes more than just Star Wars to make an $11B+ year at the box office.


In the end, several factors contributed to 2015 being the year that broke box office records, from enhanced theatre amenities to social media to the ongoing success of certain film franchises.
Here are 5 of the reasons 2015 was a record year at the box office:
1 
Strategic Scheduling
Careful timing on the part of the highest performing studios made for big box office success in 2015.
Many analysts attribute the record year in part to the careful slating of diverse films by studios. Smart studios paid heed to the old adage that timing is everything, creating dynamic release schedules in order to appeal to varying demographics consistently throughout the year.
Universal went from 5th to 1st place to become the top earning studio of 2015, with hits Jurassic World, Furious 7, Fifty Shades of Grey, Minions, and Pitch Perfect 2 in its roster. Time magazine wrote that Universal "found success by identifying audiences that might be underserved in certain months and translating that into big returns."
By  positioning  Jurassic World as a summer tentpole that would draw audiences from every demographic, Universal was then able to focus on releasing films in a strategic way that would support the entirety of the studio's 2015 catalog. The decision to release the musical comedy with a cult following Pitch Perfect 2 against Warner Bros.' sci-fi action winner Mad Max: Fury Road serves as one example of the studio's insightful creation of an alternative at the box office.
And while 50 Shades of Grey could have easily been a niche film, marketing by Universal ensured it found the largest audience possible by releasing it in February, typically a quiet month for the box office. By turning the cutting edge erotic film into a tame Valentine's day date night option, the movie set a record for best February opening weekend of all time.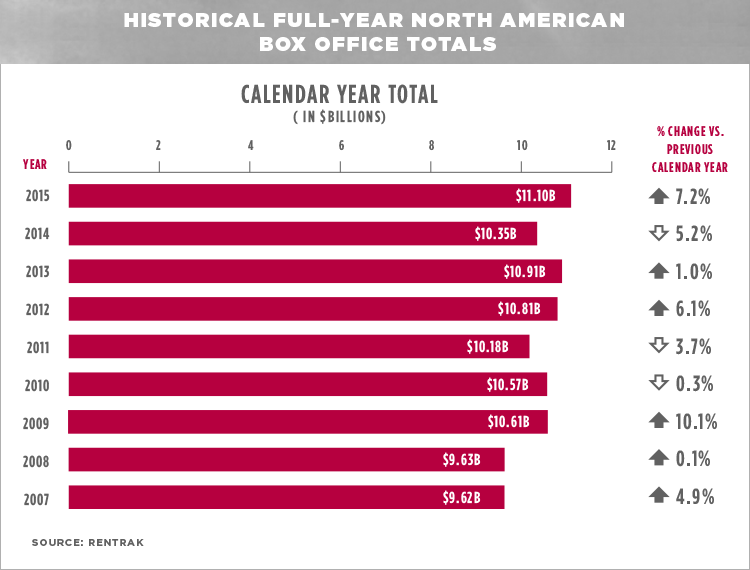 2
 Smart Marketing
Today, film critics and TV personalities aren't the only contributors to the box office conversation.
Popular Flixster-owned movie rating website Rotten Tomatoes requires nothing of its critics other than access to the internet, where the cumulative power of the average moviegoer has been recognized by studios. While a great marketing campaign can incite initial interest and box office revenue, the trajectory of the film will be more determined by how and what audiences share with one another, often online.
Studios have long understood that word of mouth recommendations from friends, family, and coworkers hold as much sway over a film's success as marketing campaigns or magazine columns. But by realizing that vital conversations about movies have moved from the water cooler to online platforms like Twitter, Facebook, and YouTube, studios have been able to refine their marketing approach for maximum impact.


Social media has emerged as the new norm for all industries seeking to connect with the needs of today's consumers. In the film industry, this means that studios are not only learning valuable information about their audiences, but for the first time ever are able to respond in real time by making changes based on feedback culled from social media platforms.
If a teaser trailer yields negative feedback or little interest, studios can quickly course correct, readjusting their approach until they get it right for maximum success at the time of the film's release. The labor-intensive process of polling and pre-release tracking is now enhanced by real-time, unfiltered feedback from the people who matter most–the audience.
(For more about social media and the importance of the shared conversation around movies see our Millennials: Shaping a New Economy of Experience.)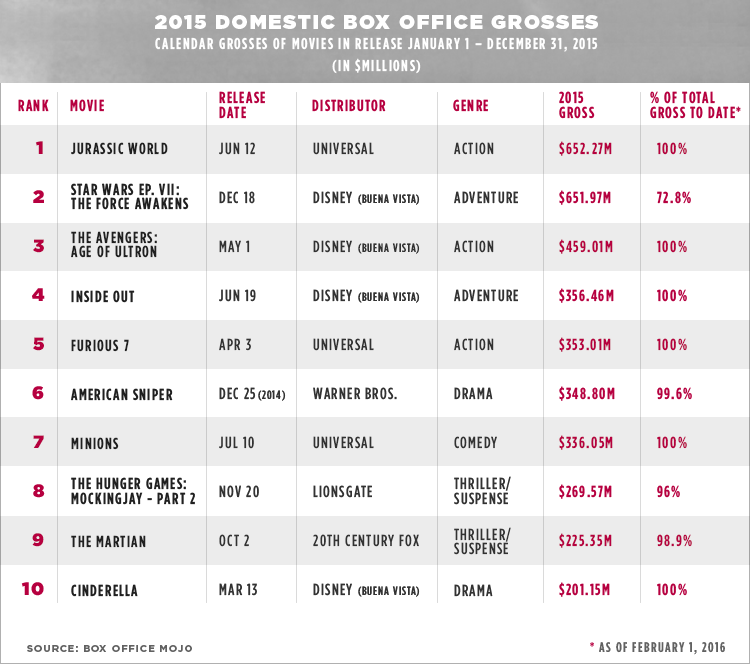 3
 The Dynamic In-Theatre Experience
The  ever-evolving customer experience encourages repeat visits, securing the theatre as a top entertainment destination.
Regarding the new global box office record, Rentrak Senior Media Analyst Paul Dergarabedian commented that the $38B+ record showed that "going to the movies is a beloved pastime that is enjoyed throughout the world, with moviegoers from a wide array of backgrounds and cultures all coming together for the shared in-theater experience…"


The "shared in-theater experience" Dergarabedian highlights illustrates that the gross profit per customer is as contingent upon the experience of going to the movies as much as it is about delivering a quality film.
As such, the guest experience has taken center stage and operators have found new ways to enhance what it means to go to the movies. The convenience of online ticket purchasing, enhanced food and beverage including alcohol, premium sight and sound technology including film formats like IMAX, the reseating of theatres for maximum comfort, and loyalty programs that reward customer visits are all part of this new customer-centric theatre model.


Theatre operators that offer some combination of these valued amenities have seen varying increases in attendance and customer revenue, even in theatres that have reduced the number of seats in order to offer more luxurious, spacious seating. By enhancing amenities, operators are also enhancing customer loyalty to their particular location.  As a result, 2016 will see many more theatres expanding their offerings to answer the needs of the new, experience-based consumer.
4
 Franchise Films Continued To Deliver
Content matters, and the right content within the right genre is an important component of franchise film success.
Franchise films have emerged as top drivers of box office revenue in recent years. Studios have paid attention to this shift and increased the flow of production dollars toward these big budget, big draw movies.  Franchise films Furious 7, Jurassic World, Star Wars: The Force Awakens, and Avengers: Age of Ultron were in the top five grossing movies of 2015, with a cumulative domestic total of over $2.1B, making clear these films are connecting powerfully with audiences.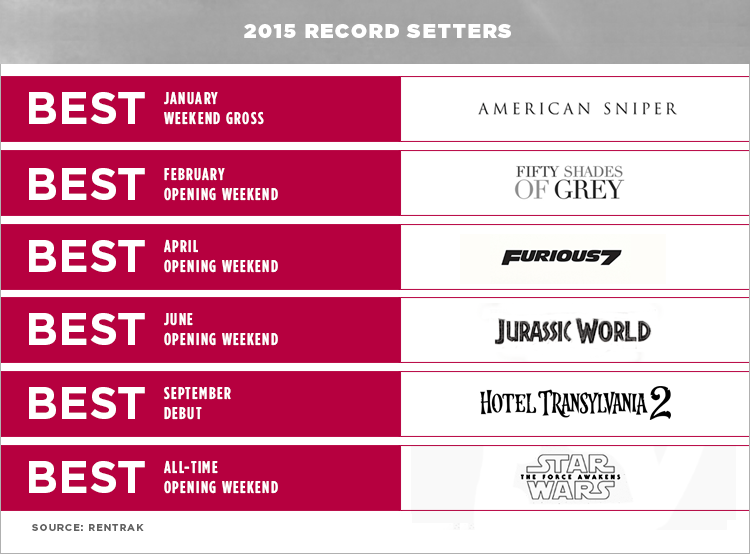 Not every franchise film was met with instant success, however. Warner Bros.' overt attempt to establish new franchises fell flat with audiences, highlighting the unwavering desire on the part of moviegoers for strong content in addition to the excitement and fast pace of a tentpole film.
The difficulty of creating a compelling set of characters out of thin air is an issue Disney was able to avoid when it acquired Marvel for $4B in 2009. It wasn't just the rights to the Marvel Universe they were purchasing, but an entire catalog of already beloved characters with an established fan base. This strategy applies to the acquisition of Lucasfilm in 2012 as well, as fans of the Star Wars franchise are famous for their dedication to the series. To read more on the strategy of "established value," see our article The Business Strategies Behind Franchise Films.
5
 Star Wars for the Win
Disney's record-breaking film performed a combination of all the above to take 2015 past the finish line.
While Disney focused on a smaller amount of films this year (15 to Universal's 26), their focused strategy paid off. The combination of thoughtful slating, masterful marketing, and commitment to content combined to make for a winning year.
Rather than wait for Star Wars to do the heavy lifting in December, Disney wisely utilized their entire stable of powerhouse brands including Lucasfilm, Pixar, and Marvel throughout the year. As a result they released a variety of high-achieving movies across genres, reaching a broad audience year-round. Cinderella offered a live-action take on an already beloved story, Pixar's Inside Out told a meaningful tale that appealed to children and adults in equal measure, and two features from their Marvel imprint (Avengers: Age of Ultron and Ant-Man) all perfectly positioned Star Wars: The Force Awakens to score Disney's winning goal in December.


Star Wars: The Force Awakens is the first Star Wars film to be released in the age of social media. Star Wars' final of three teaser trailers, released during halftime of the New York Giants-Philadelphia Eagles football game, came out two months before the release date of the movie and sent advanced ticket sales into overdrive, even crashing online ticket sales' servers, including mega site Fandango.
As the L.A. Times noted in their article on the teaser trailer phenomenon, "in the first hour after the Star Wars teaser trailer aired, 1.3 million people interacted with it on Facebook" while "Star Wars-related tweets came at the furious pace of 17,000 per minute." AMC theatres sold out more than 1,000 shows nationwide in less than 12 hours.
The success of the teaser trailers wasn't only the result of great marketing, though. The look and feel of the previews also functioned as a promise from director J.J. Abrams to long-time fans of the franchise, who questioned the direction the movies would take in the hands of Disney.
When viewers got the first glimpse of those iconic desert hills against that famous pale blue sky, loyalty was earned. J.J. Abrams's directorial vision was clearly paying homage to the Star Wars universe and its cinematic history, winning the trust of fans and  piquing the anticipation of millions–all in a matter of seconds.
While it indeed takes more than just Star Wars to make an $11B+ year at the box office, Disney's first take on the Star Wars franchise provided a prime example of a winning formula for box office success in today's highly social climate: strategic slating, social media mastery, and meaningful content that connects with diverse audiences.