Studies show that early childhood education improves behavioral traits as well as cognitive abilities.
Key Insights
Early childhood education addresses a practical and growing demographic trend in our society
In contrast to daycare options, early childhood education centers appeal to a broad cross-section of parents who put a high priority on the educational component
Multiple studies and proposed legislation demonstrate a private and public directive for quality early childhood education
In 1975, 39% of women with preschool-aged children worked outside the home. By 2010, that number jumped to 65%. Furthermore, the number of children in center-based childcare quadrupled between 1980 and 2000.
The data points to the societal trends that have created the growing need for childcare centers. But beyond this practical need are drivers that illustrate a deeper story of the future potential for early childhood education.
Serving the Needs of Society
At its most basic level, early childhood education meets a growing demand among working parents for childcare. There are other societal impacts to consider as well.
Studies show that early childhood education improves behavioral traits as well as cognitive abilities. Those include a child's motivation, sociability, and self-esteem. The HighScope Perry Preschool Study quantified the outcomes, reporting that quality preschool program students went on to earn up to $2,000 more per month as adults than study participants who did not benefit from such a program.
The impact of early educational opportunities has driven parents to seek a level of early childhood education beyond traditional daycare. As one Harvard study pointed out, "Healthy development in the early years provides the building blocks for educational achievement, economic productivity, responsible citizenship, lifelong health, strong communities, and successful parenting of the next generation."
Studies show that this type of early education can contribute to a greater social output. In fact, Brookings projected the impact to a national level, "…a universal preschool program could improve GDP by 3.5% over the coming decades."
The Facilities Factor
Early childhood education is a $47 billion market. $31 billion of that is formal—a third party provider in a center. The majority of these facilities are not "purpose built" as quality early childhood education facilities with the amenities necessary to deliver a quality early childhood education. A growing number of parents are choosing early childhood education centers over in-home daycare or even traditional daycare centers. This growth in demand for early childhood education centers is increasing the need for purpose built early childhood education facilities that don't exist today.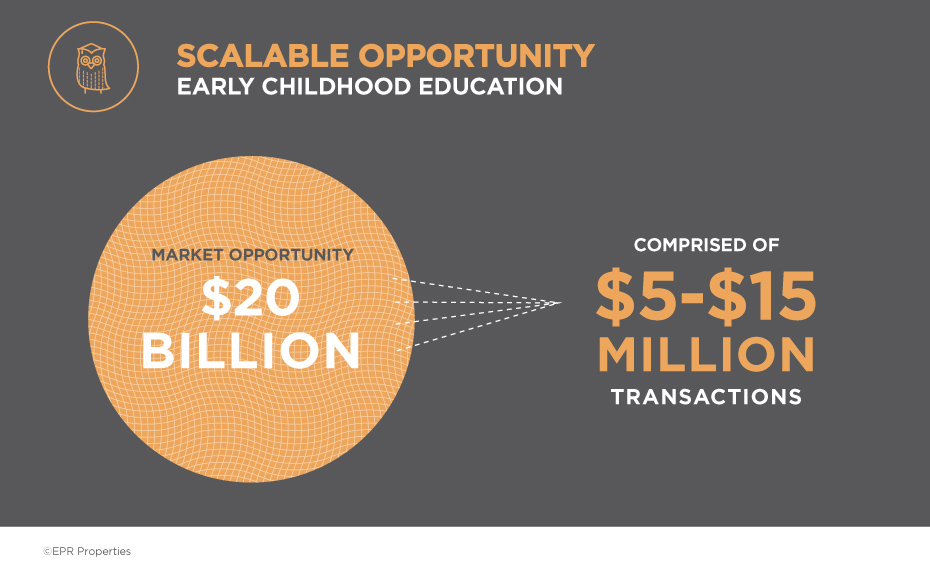 Parents continue to look for quality early childhood education for their children. This trend is most prevalent in higher income areas. Parents in these areas are more economically stable, so these facilities remain durable. Demand remains strong,for these high quality facilities due to an increasingly high priority being placed on early childhood education.
Sources
Encyclopedia of American Industries. Gale Research. Web. 2014. 20. Jan. 2014.
Early Childhood Education. National Education Association. Web. 2013. 14 Dec. 2013.
The Effects of Investing in Early Education on Economic Growth. Web. 2006. 18. Dec. 2013.
Lifetime Effects: The HighScope Perry Preschool Study Through Age 40. Web. 2011. 22. Dec. 2013.
Doing Well by Doing Good: A Leader's Guide. McKinsey Quarterly. Web. 2013. 4. Jan. 2014.
Investments in Education May be Misdirected. The New York Times. Web. 2013. 23. Jan. 2014.
Experiences Build Brain Architecture. Center on the Developing Child, Harvard University. Video. 2013. 22. Jan. 2014.