Dan Petersen has been managing the real estate department at Children's Learning Adventure for approximately 4 years and is responsible for driving the company's nationwide expansion. A man equal parts vision and execution, in his 4 years at CLA Mr. Petersen has broadened the company's expansion scope from 5 markets to approximately 30 markets, which will continue to grow in the coming years. Dan was recently kind enough to give us some of his much sought-after time, sharing his thoughts on Children's Learning Adventure and providing an insider's view of the growing field of early childhood education in the process.
The first CLA opened in the Phoenix market in 2008. Tell us about your role with Children's Learning Adventure.
I've been in commercial real
estate for about 12 years, and involved with CLA since late 2011. As we've grown, my role within the organization has as well. As Vice President of Development, I manage and implement our growth strategy on a national basis – from real estate to development and construction. It's a challenging position but rewarding – both personally and professionally. It's incredibly exciting to be on the forefront of national – perhaps even international – growth of a truly best-in-class concept.
I've been fortunate to have worked for our CEO since 2005, although prior to joining CLA, it was in a different business venture. To know our CEO [Rick Sodja] is to know his vision never stops. He is constantly contemplating better methods, better amenities, better ways to bring the very best product to the marketplace.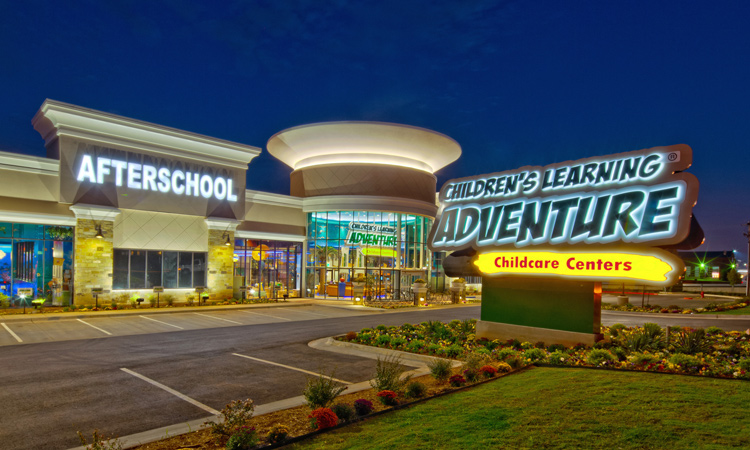 Describe the Children's Learning Adventure brand and concept.
How much time do you have? At its core, CLA is the premier provider of educational opportunities for young children, from infants through Pre-K, combined with innovative facilities for older children to have fun and enhance their educational aspirations.
CLA has combined a proprietary curriculum designed with the idea that children have infinite learning potential along with exciting, technology-rich learning centers that further stimulate brain development. And that's not even including the fun of amenities like the After School Jungle or The Studio.
Childcare services are a necessity for a large percentage of American families. Please talk about demand for high quality, research-based early education facilities in 2015.
The demand continues to grow and is showing no signs of slowing down, and it's not just because of the pervasiveness of the dual-income household (although that is certainly a significant part of the equation). Even single-income households that may not need daycare, per se, still have parents who value education for their young children. That segment represents a significant percentage of our enrollment.
What role does curriculum play in the development of Children's Learning Adventure facilities? How has the relationship between facilities and curriculum evolved during your time with CLA?
The first thing that is important to understand about teaching younger children is the environment must be stimulating and fun. CLA's facilities are designed around the idea that the children are truly enjoying themselves and yet are exposed to a learning environment at every turn.
The next step in the evolution of the facilities is happening through the implementation of technology in the preschool program. We introduced tablet stations into our schools in late 2013, and those tablets are loaded with games, puzzles and learning activities that are fun for children, and provide empirical data to teachers and parents about each child's understanding of the concepts. As an example, a child may be putting together a dinosaur puzzle on the tablet, but the data may tell the teacher the child has a strong understanding of recognizing shapes and patterns. The teacher then has an additional tool with which to communicate with parents.
Further, the introduction of touchscreen smart boards both creates an interactive collaborative learning environment for the kids and ensures our teachers are presenting the curriculum as designed.
CLA's real estate development model is based on highly strategic site selection and utilizing real estate strategies adopted from the retail market. How has this approach paid off for CLA?
By producing overwhelming demand for our services. It's important to understand that our customer is 1) extremely busy and 2) a niche customer. Name brand recognition is not something we can rely on like Apple, Nordstrom, etc. Rather, our customer is generally 25-40 years old, and would have no interest in what we do if not for their children.
It is vital that our facilities are located in easily visible and accessible locations in order to be most convenient for parents. Strategically, this model is very different than the typical daycare model that looks for whatever entitled land it can afford. CLA believes that real estate selection is the most important component to give ourselves the best opportunity for success in a given area.
CLA is targeting a particular demographic in order to fulfill unmet demand. Can you describe this demographic and your target markets moving forward?
CLA utilizes a self-created model that measures income and depth of the child base in a given trade area. As CLA is a private-pay provider, the focus on affluent communities makes the business less prone to market volatility. Moving forward, CLA is expanding into every major city in the US, with the local focus being affluent suburbs with large populations of children. For instance, we are making a big push into Chicago at this time, and our first 2 locations will likely be in Northbrook and Naperville.
How has the vision of CLA changed in the time you've been with the company?
Since I've been involved we've really ramped up the use of technology in our educational curriculum through the use of tablets with our curriculum built into the software, and touchscreen smartboards in the classrooms that ensure our instructors are presenting the curriculum in the same way, whether they're in Houston, Dallas, Phoenix, or Atlanta.
Additionally, our offerings for older children have grown exponentially. Afterschool and summer camp programs are a significant component of our offerings, and we've introduced amenities that are simply unparalleled in this industry such as bowling lanes, indoor basketball court, a professional grade kitchen designed for kids, disco dance studio with 16-screen video wall, ballet studio, and so much more.
Many of those amenities are utilized in our newest offering, The Studio. With the opening of our first Studio in Cinco Ranch (Katy, Texas – a suburb of Houston), we now incorporate our best-in-class core offerings with extracurricular activities that most children are already participating in. We offer 45-minute classes Monday-Saturday in the Studio for anything from hip hop dance to tap & ballet, sports, gymnastics, and  cheerleading.
Most importantly, though, we have also incorporated professional tutoring for young children and school-age kids on-site. So now you have best-in-class child care, preschool, afterschool, summer camp and extracurricular activities all under one roof.
What are you most excited about right now in terms of CLA?
 The limitless possibilities. I liken what we are doing now to how it must have been to be at Apple in 2001 when Steve Jobs introduced the iPod. I think we all know where their story goes from there. Every day at CLA brings new challenges and new possibilities. There is no innovative idea off the table.
Early research into childcare facilities established that, more than other types of buildings, early childhood educational facilities have a "profound impact on their occupants." Considering that many childcare facilities have long used the square-foot-per-child model to determine size and space needs, how does CLA's impressive square footage impact what it is able to offer children?
It's important to note that CLA operates its facilities in compliance with state requirements. What we add in overall size doesn't take away from the close knit environment smaller childcare facilities provide. Our intimate classroom sizes are generally consistent with those you'd see in other providers. However, our sheer size does allow us the ability to add our specialty preschool environments (television studio, math & science lab, art studio, culinary school, etc.), plus our incredible facilities for older children.
What do you wish people would ask you about CLA?
 Great question because I feel like I've been asked just about everything – from the real estate side, the business side, the operations and education side… It's such an incredible concept that there are so many different ways to look at it, and questions to be asked.
If there had to be one question I would like to be asked, it would be "what will you think of next?" That's one I probably can't answer.